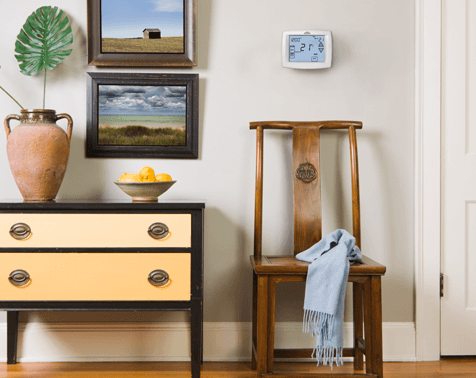 Heating and cooling bills have skyrocketed as of late but we can show you how to use your thermostat to make your home more energy efficient and save you money.
First, let us put a fallacy to rest. Contrary to popular belief furnaces and air conditioners do not ease off the gas pedal (so to speak), as they get closer to the desired set temperature. They constantly put out the same temperature of air until your home has reached the setting in your thermostat, and then will cycle on and off to maintain that comfort level.
With single stage motors, it is either on or off, even if it's only for five or ten minutes to reach that comfortable temperature. Napoleon offers furnaces with a two-stage motor, which will turn 'light-on', 'full-on' and 'off' depending on how much heating needed. Using 'light-on' for minor temperature variances, coupled with smart use of your thermostat will save money and make your home more energy efficient.
Easy Ways To Be More Efficient With Your Thermostat
Whether it's heating in the winter or cooling in the summer, turning your thermostat back between 5 and 10 degrees for at least 8 hours per day saves a lot of energy and money.
Use a programmable thermostat; it will do the work of setting your temperature back a few degrees so you don't have to remember. Some even come with government incentives and cash back!
#NapoleonHVAC #NapoleonHeatingandCooling #ProgrammableThermostat #NapoleonFurnace #NapoleonAirConditioner